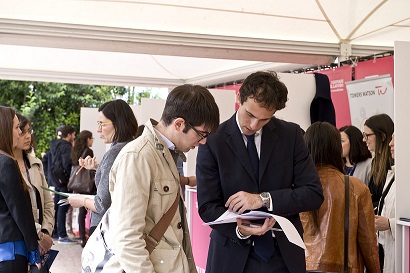 Studying at the School of Government means be part of LUISS's dynamic and international community that shares academic endeavors, enthusiasm and experience. Students hold an active role in their education and can count on a close relationship with faculty members. LUISS has many opportunities for students to get involved in the fabric of the University and beyond, including its own radio and webTV, the most important in the Italian student community.
Eating
Students have access to the cafeteria at Viale Romania campus that has the following opening hours:
Lunch: from Monday to Friday, 12.00-14.30
Dinner: from Monday to Friday, 19.00-20.45
The cafeteria offers a take-away service is open for dinner and on Saturdays. It is necessary to reserve the service by 13.30. Changes to cafeteria opening hours will be posted on the notice board and on the LUISS website. In August, the cafeterias will be closed. More information is available here.
Emails and IT
The University's IT Services unit guarantees the operation and update of IT services at LUISS, providing students, faculty and staff members with enhanced software applications. It also guarantees system and platform interoperability applied in education, research and administrative services. The IT Services' main activities are:
network and security services
assistance to users
purchase of hardware and software
implementation of new technologies
maintenance and development of applications
As a student of the School of Government, you will be provided with an email account and access to several webbased services. LUISS campuses provide also wireless access.
Library
School of Government students can freely access LUISS library that provides a large set of offline and online research sources, books and periodicals. More information about Library is available here.
Sports
LUISS Sports Activity aims at making students participate and feel part of a Community through the valuable message of sports. As part of the School of Government, you can practice all kind of sports ranging including basketball, soccer, volleyball, rugby, athletics. All sport activities take place at the University sports center PALALUISS, at the Acqua Acetosa field, which is within 30 minutes from Viale Romania campus with public transportation. For more information see here.
Cultural Activities
Our students can also participate to the various cultural activities organised by LUISS students such as, photography and writing contests, theatre labs. The University also has agreements with a number of theatres in Rome, offering students cut price tickets or discount season tickets. More information will be provided when you arrive at the University.
On-campus health care
Students can access a cost-free health care service provided by LUISS and managed by the in-house doctor whose office hours are:
Mondays, Wednesdays, Fridays: 15.30-16.30
Tuesdays and Thursdays: 10.00-12.00
In August, the on-campus care service is closed. The doctor can also be contacted via email and by phone.
Emergency medical service
There is an emergency medical service for all LUISS students, which is available both on-campus and at the student's home. The service is offered by Medical Care and you can get in touch with them by calling the toll-free number 800 94 94 89. For more information see here.
Travel Agency
LUISS Guido Carli has signed an agreement with CTS travel agency (Centro Turistico Studentesco e Giovanile) where students can benefit from a number of services. Students of the School of Government can purchase a CTS membership card for €18, instead of €30. CTS members receive the CTS Membership Card and the International Student Identity Card, which gives access to discounts and cut prices on airline, train, ferry, movie and theatre tickets in Italy and abroad. You can also purchase vacation packages to any place of destination.Details information about these services please contact the Admission Staff of the School of Government at the following address:LUISS School of Government Via di Villa Emiliani 14 00197 Roma Italy Tel: 0039 06 85225052/5065 Fax: 0039 06 85225056 Email: sog@luiss.it.More information about LUISS services is available LUISS International Brochure.