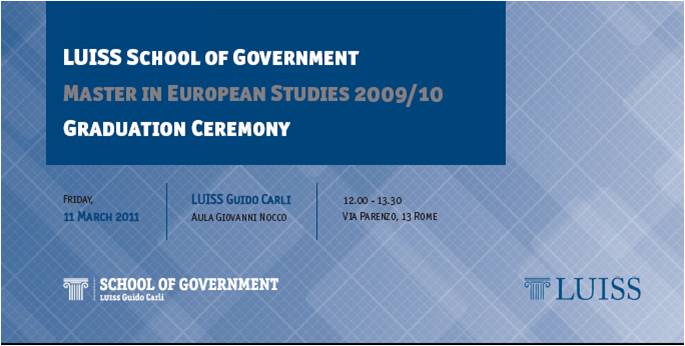 La School of Government della LUISS Guido Carli ha il piacere di annunciare la cerimonia di consegna dei diplomi per l'edizione 2009-2010 del Master in European Studies.
Programma
12:00 Indirizzo di Saluto Prof.Massimo Egidi, Rettore LUISS Guido Carli
12:10 Intervento dell'Amb. Massolo, Segretario Generale, Ministero degli Affari Esteri
12:40 European Studies at LUISS: A First Hand Experience Mohamed Ashas, Dottorando presso la LUISS Guido Carli e partecipante dell'edizione 2009 del Master in European Studies
13:00 Conclusioni Prof. Giovanni Orsina, Direttore del Master in European Studies e Vice Direttore della LUISS School of Government
13:10 Consegna dei diplomi del Master
13:30 Light Lunch
La partecipazione è libera.
Per maggiori informazioni si prega contattare relazioniesterne@luiss.it