Lunedì 21 febbraio, 9.30-13.00 - The Dome 1, Campus Luiss di Viale Romania 32
Si terrà la quinta edizione del Corso Executive Giornate dell'Energia e dell'Economia Circolare di Trevi "Il Piano Nazionale di Ripresa e resilienza e la sfida della transizione ecologica: parte il biennio Fit for 55" a cui seguirà un laboratorio su PNRR e drafting legislativo.
Gli speaker del Talk La sfida della Transizione Ecologica nel PNRR saranno:
Moderatore, Gianni Todini - Askanews
Giuseppe Ciraolo - Corepla
Claudio Busca - Comieco
Ivan Illomei - Conai
Marco Ravazzolo - Confindustria
Alessio Borriello - Acquirente Unico
Cecilia Gatti - Axpo Italia
Michele Ziosi - Iveco Group
Simone Nisi - Edison
Fabrizio Iaccarino - Enel
Guido Guida - Terna

L'evento è promosso da GLOBE e WEC, in collaborazione con AICP e School of Government. Media Partner Askanews, patrocinio CNG.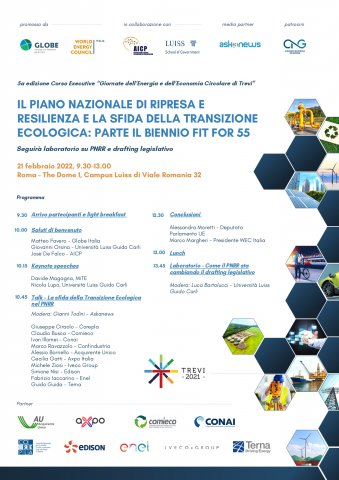 Clicca qui per scaricare la locandina